Harp Event News
Here is a list of of harp events, worldwide.
E-mail your submissions to [email protected].
---
Performances, Recitals & Festivals
Harptacular 2019
Harptacular 2019
Harptacular brings a unique learning, networking and performance opportunity to a city near you! Join harpists in your area for a harp-filled weekend featuring an exhibition of harps, a recital by local harpists, a masterclass and recital by an international guest artist and workshops presented by Lyon & Healy staff.
Lyon & Healy also invites any and all student harpists to perform a piece (up to 10 minutes in length) in a closing Student Showcase on Sunday morning. Soloists and ensembles are encouraged to participate. Please designate your interest to perform on the registration form:
www.lyonhealy.com/harptacular/
*Those wishing to perform must submit a registration form at least one month in advance of Harptacular.
Nashville, TN
MARCH 1-3, 2019
Sivan Magen
Beyond Pluck
Kirsten Agresta Copely
Sarah Crocker
Licia Jaskunas
Orlando, FL
APRIL 5-7, 2019
Agnès Clément
Jan Jennings
Elizabeth Louise LeBlanc
Christine MacPhail
Victoria Schultz
Omaha, NE
SEPTEMBER 13-15, 2019
Duo Scorpio
Mary Bircher
Anita Jaynes
Kim Meyer
Katie Wychulis
Boston, MA
OCTOBER 18-20, 2019
Julie Smith Phillips
Franziska Huhn
Krysten Keches
Felice Pomeranz
Lizary Rodriguez

---
Distinguished Harpist Series: Katherine Siochi
Sunday, June 9, 7:30pm 18 Chase Street, Newton Center
(Newton Center T stop)
Tickets: $25
For further information, 617-527-0818
Katherine Siochi is the most recent gold medalist of the USA International Harp Competition, one of the world's most prestigious harp contests, and one of the only Americans ever to win the
prize. She has won numerous awards in national harp competitions as well, including First Prize in the American Harp Society's Advanced and Young Professional divisions. From 2015-2017, she was Concert Artist for the American Harp Society, presenting recitals and master classes in twenty-three US cities. As an orchestral musician, she has appeared in Carnegie Hall, David Geffen Hall, and Alice Tully Hall, and substitutes frequently with the New York Philharmonic. As soloist, she has performed across the US, and in Hong Kong, China, and Israel.
In addition to harp, Katherine studied piano at the Juilliard School. Her piano background has contributed to her interest in transcribing piano works for the harp. Katherine holds Bachelor's and Master's degrees in harp performance from Juilliard, where she studied with Nancy Allen.
Katherine is currently principal harpist of the Sarasota Orchestra.
Partita in B-flat Major, BWV 825: Johann Sebastian Bach (1685-1750)
Praeludium
Allemande
Courante
Sarabande
Minuet I & II
Gigue
Nocturne No. 2 in E-flat Major, Op. 9: Frédéric Chopin (1810-1849)
Suite No. 4, "Images," Op. 39 : Marcel Tournier (1879-1951)
La Volière Magique
Cloches sous la neige
La danse du Moujik
Un Sospiro: Franz Liszt (1811-1886) arr. Henriette Renié (1875-1956)
Fantaisie, on motifs from Gounod's opera Faust, Op. 12: Albert Zabel (1834-1910)

---
New England Irish Harp Orchestra
The New England Irish Harp Orchestra will be celebrating its 15th year anniversary with a concert at the Burren in Somerville, MA on June 15, 2019 at 7pm. Past members of NEIHO will be joining us with their harps onstage (even more harps!) along with our band friends who play tinwhistle, uilleann pipes, fiddle, bodhran, etc.
"An evening of Traditional and not-so-traditional Celtic music for a lot of harps! Dance tunes, ballads, airs, poetry and more will fill the Back Room. NEIHO is a wonderful community group which delights audiences while filling up the entire stage with harps and the whole room with music. Led by accomplished harpist Regina Delaney, NEIHO is no stranger to The Burren stage. Always a fun show!"
To buy tickets online (do it soon; the reserved seats at the tables can go fast):
tickets.burren.com/ordertickets.asp?p=706&src=eventperformances
Use code 24HOUR to get $2 off the ticket price. The ticket website adds fees of $3.85 to each ticket, so online it adds up to $16.85/ticket.
---
Workshops, Masterclasses & Harp Camps
HarpArts Music Retreat
June 2-9, 2019
HarpArts is the experience you've been waiting for: a chance to remove yourself from the daily pressures of contemporary life, study with inspiring teachers, engage creatively with solo and ensemble repertoire, home your skills, and develop new ones.
Advance your musical education, kick start your harp training, and delight in the friendship and good times that make HarpArts a unique opportunity.
The HarpArts 2019 program will offer improvisation classes, using technology in composing, arranging, and performing: working with the principal harp and choral repertoire, and developing technical fluency. Of course we will have master classes, ensemble rehearsals, private lessons, and small group coaching sessions.
Registration now open at
www.harparts.org
Email: [email protected]
---
Curtis Summerfest Harp Colony
Curtis Summerfest Harp Colony

Sunday, June 9–Saturday, June 15, 2019

Are you a harpist looking for a rigorous summer program? Apply for the Curtis Summerfest Harp Colony, an intensive week of orchestral training through mock auditions and master classes with Curtis faculty member, Elizabeth Hainen, and former principal harp of the Toronto Symphony Orchestra, Judy Loman, culminating in a final concert.
Recommended for performers ages 13 and up
Performer Track highlights:
- Perform in master classes taught by Elizabeth Hainen and Judy Loman. Select performers will be chosen to perform at the final recital.
-Present orchestral excerpts in a simulated audition environment for a panel of Harp Colony faculty.
-Witness your faculty perform in an intimate recital venue.
-Enjoy a private tour of the Curtis Institute of Music, including an exclusive peek into the Salzedo Archive Collection.
Build friendships, share ideas, and enrich your musical talent in an intimate atmosphere—and enjoy yourself thoroughly in the process!
www.curtis.edu/summerfest/harp-colony/about/?utm_source=summerfest&utm_medium=email&utm_campaign=summerfest
---
Young Artist Harp Seminar
July 6–20
Young Artist's Harp Seminar
ages 12–26; pedal harp by audition
July 7–14
YAHS Prep Division
ages 8–17; lever and pedal, no audition
July 2020
Young Artist's Harp Competition
up to age 19
---
Somerset Folk Harp Festival
July 18-21, 2019
Parsippany, NJ
The Somerset Folk Harp Festival is an amazing 4-day conference celebrating the diversity of music, talent and experience of the folk harp world. Whether you want to focus on one style or type of music, solidify some specific skills, or try out something new, the breadth of this year's workshop offerings is sure to expand your musical horizon.
The Exhibit Hall is the best harp and music shopping under one roof you'll find anywhere on the East Coast. Daily concerts will inspire you. Come for the whole festival or just one day--plenty of registration options.
---
Colorado's Spanish Peaks Harp Retreat
September 25-29, 2019
Maire Ni Chathasaigh, Sue Richards, Jaimee Joroff : Harp
Chris Newman: Harp and Guitar
Don Hillsberg : Score a Silent Film with your Harp
Evening Workshops and Concert
---
Competitions & Contests
11th USA International Harp Competition
June 1-18, 2019
1201 E. Third Street
Bloomington, Indiana, USA
Exact dates to be determined. All repertoire must be performed from memory, with the exception of the 6th Composition Contest winning composition in Stage 3– The 11th Competition is open to harpists of all nationalities between the ages of 18 and 32 as of May 1, 2019– Find more information at www.usaihc.org
Stage 1
J. S. Bach: Any Preludes and Fugue from "The Well-Tempered Clavier"
Louis Spohr: Variations sur l'Air "Je suis encore dans mon printemps", Op. 36
Jacques de la Presle: Le Jardin Mouille
Stage 2
Nino Rota: Sarabanda e Toccata
Gabriel Faure: Une Chatelaine en sa tour
CHOOSE ONE:
Ernst Krenek: Sonata for Harp, Op. 150
Germaine Tailleferre: Sonata for Harp
CHOOSE ONE:
Carlos Salzedo: Ballade, Op. 28
Henriette Renie: Ballade Fantastique
Stage 3
A free choice program of 40 minutes to include the following:
1– 6th Composition Contest winning composition (TBA, maximum 8 minutes)
2– Spoken program notes not to exceed five minutes of the 40-minute program. The performer may speak in any language. A printed transcription in English must be provided to the jury.
Stage 4
Choose One:
Franz Liszt: Liebestraume No. 3 (Any Edition)
Mikhail Glinka: The Lark (Any Edition)
Joaquin Rodrigo: Concierto de Aranjuez
---
---
*Returns: We want you to be completely satisfied with your instrument, no questions asked. The Harp Connection offers a 30-day return policy on lever harps and lap harps purchased from our store (except special orders). To be eligible for return, the harp must be in the same condition as when we shipped it to you and it must be returned with all accessories such as tuning keys and books. In the event of a return, you will be responsible for return freight to our Rowley, Massachusetts location. Custom-ordered harps may not be returnable, depending on the requirements of the factory; call us with specific questions about special order returns. Pedal harps can only be returned upon approval of the manufacturer and a 20% return fee will typically apply. We update our web site daily, however all harps are subject to prior sale.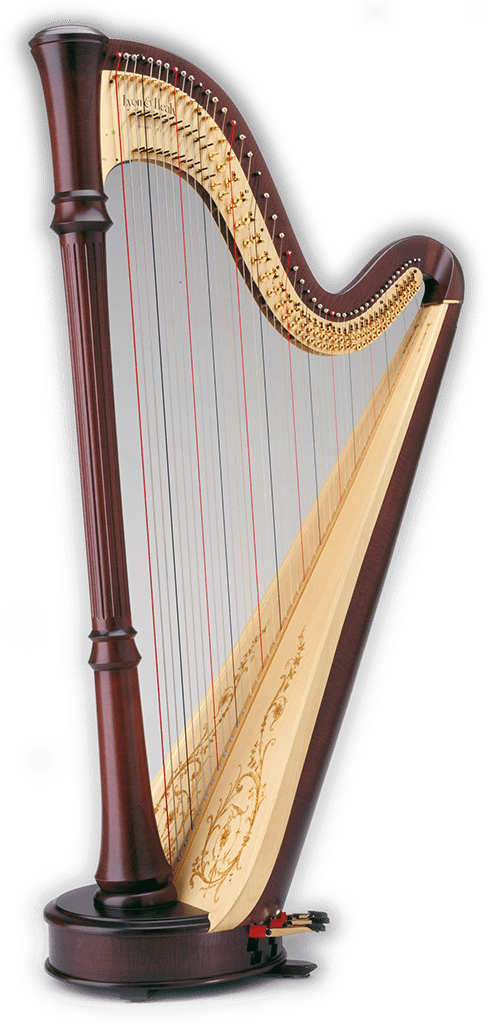 Adding To Cart...
Click or Tap to Close