Harp Event News
Here is a list of of harp events, worldwide.
E-mail your submissions to [email protected].
---
Performances, Recitals & Festivals
Bluebird Performance Venue Invitational Mic
The Bluebird Performance Venue is opening in Georgetown, MA. Alyce Underhill and I have secured the beautiful and comfortable First Congregational Church at 7 Andover St.

Our first Invitational mic is April 30th. We are attracting a variety of musicians and spoken word artists. We want to invite you to share this opportunity with your best students who are ready to spread their wings to the welcoming and artistically diverse community of The Bluebird Performance Venue.

The acoustics are amazing. We have a sound system, baby grand piano and plenty of room to seat 400, though our Invitational mic performances will be more intimate. The performances will have an array of instruments; string, percussion, brass, woodwind, vocal, keys. It's going to be a great experience.

Admission is $8 and performers are free. Cool & warm beverages and desserts are offered in the gathering room for intermission breaks and post concert meet and greets. Books/CD's and music school information tables are available for marketing.

We have scheduled our professional concert performances for the fall of 2022 and are working on our 2023 calendar if you would like to participate please reach out.

Best to you from the Bluebird Crew
Lynne Deschenes and Alyce Underhill
[email protected]
---
Workshops, Masterclasses & Harp Camps
The Interlochen Arts Camp High School Harp Program
Scholarship and financial aid are available.
IAC is a very exciting, intensely musical and often life changing six weeks of solo harp, large ensemble (orchestra and wind symphony), harp ensemble and rich community. The Arts camp resides between two lakes, with beautiful natural environment.

www.interlochen.org/music/camp-programs/high-school/harp

---
Somerset Folk Harp Festival
2022 Somerset Will Be Hybrid!

They'll be back On-site and In-person in Parsippany NJ and simultaneously Online on Zoom July 21-24. You can attend either way!
Plus they're keeping that online video component you've enjoyed so much on Somerset Online for the past 2 years too.

And there's more!
- More "live" Workshops! We're adding a second 'live" online weekend July 30-31 with all of the artists who can't make it to our on-site festival.
- Still more! We're adding Somerset Saturday 'live' workshops in September.
- All "live" workshops will be recorded and available for later replay--same as they've done for the past 2 years.
- Workshop video content you can watch on your own schedule and replay to your harp's content during your subscription--as Somerset has done for the past 2 years.
- The Archive now has 100 workshops on video from the 2020 and 2021 festivals you can buy for an additional $100.
- Registration for the whole festival is the same it's been for 21 years: $395 if you sign-up early-bird by May 1.
---
U-M MPulse Harp Institute
The 2022 MPulse Harp Institute is a one-week program focusing on individual and group instruction for high school harpists. The program includes sessions to enhance the musical and technical skills of the dedicated harpist. The MPulse Harp Institute will provide private lessons, built-in practice time, harp ensemble and studio classes, and potential guest artists.
Specific topics of focus will include solo repertoire, standard harp cadenzas, performance concentration and confidence, use of the inner ear and imagination for musical delivery, playing with relaxed, organized technique and peer-to-peer observation. Studio Classes provide a productive way to explore not only harp playing, but collegial support and "real time" experience.
The 2022 MPulse Harp Institute will resume in-person instruction on the University of Michigan Ann Arbor campus! The institute will be held at the U-M's School of Music, Theatre & Dance facilities located on the University of Michigan's North Campus.
Session Dates: July 24 – July 30, 2022
Tuition: *$1,700
Final Application Deadline:
April 15, 2022
Final Admissions Notification:
Rolling
Applications received after the priority deadline will be reviewed on a rolling basis.
*Tuition for the MPulse Harp Institute covers all instructional classes and events as well as room and board. Need-based and merit scholarships are available.
smtd.umich.edu/programs-degrees/youth-adult-programs/youth-programs/mpulse/harp-institute/
---
The Maine Coast Harp Institute Student Program
The Maine Coast Harp Institute Student Program (August 3-13), is inspired by the legendary Summer Harp Colony in Camden, Maine. Multiple private lessons with Yolanda Kondonassis form the framework of the program, in addition to group classes on such topics as Practice Techniques, Performance Strategies, Body Care and Preventing Injury, Audition Preparation, Orchestral Excerpt Study, Collaborative Techniques, and more. Openings are limited so that each student receives ample private lesson time. The target age range is 14-24, but students outside of that age group are welcome to apply.
Application Deadline: April 1
---
The Maine Coast Harp Institute Teacher's Forum
The Maine Coast Harp Institute Teacher's Forum will take place on August 12-13, and offers the opportunity for teachers to gather, share challenges, troubleshoot solutions, laugh, commiserate, and feel a sense of community in the life-long mission of teaching. The Teacher's Forum will officially start with the closing evening concert of the student session and will be followed by a full day of discussion and activities for teachers, culminating with a seafood feast. Discussion topics will be strongly guided by the participant survey on the registration form. Teachers may arrive as early as Wednesday, August 10, and observe MCHI classes as well as their own student's final private lesson, if applicable. Virtual participation is also available and is arranged by request.
---
Spanish Peaks Harp Retreat
The Spanish Peaks Harp Retreat
September 21-25, 2022
Celtic and Germanic Connections
Featured Tutors:
Beth Kolle - Celtic and Nordic music
Nancy Thym - lives and music of Bavarian & German itinerant woman harpers of the
18th & 19th centuries

3 levels of harp classes: advanced, intermediate and advanced beginner
---
Competitions & Contests
---
*Returns: We want you to be completely satisfied with your instrument, no questions asked. The Harp Connection offers a 30-day return policy on lever harps and lap harps purchased from our store (except special orders). To be eligible for return, the harp must be in the same condition as when we shipped it to you and it must be returned with all accessories such as tuning keys and books. In the event of a return, you will be responsible for return freight to our Rowley, Massachusetts location. Custom-ordered harps may not be returnable, depending on the requirements of the factory; call us with specific questions about special order returns. Pedal harps can only be returned upon approval of the manufacturer and a 20% return fee will typically apply. We update our web site daily, however all harps are subject to prior sale.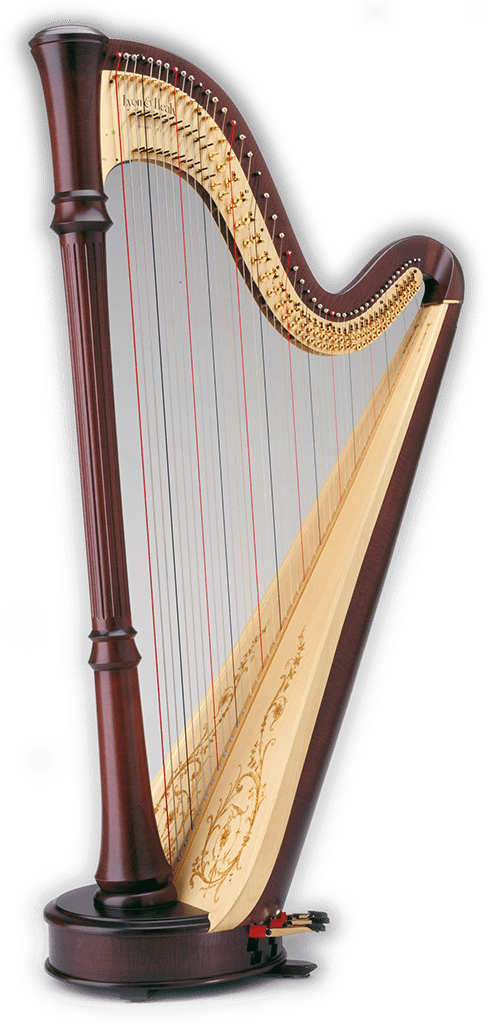 Adding To Cart...
Click or Tap to Close