Harp Event News
Here is a list of of harp events, worldwide.
E-mail your submissions to [email protected].
---
Performances, Recitals & Festivals
Workshops, Masterclasses & Harp Camps
Summer Harp Academy
Jul 5-12, 2020
Don't miss your opportunity to study with Elzbieta Szmyt & Jan Jennings!
The 8th annual Summer Harp Academy will take place July 5 - 12, 2020 in Lake Junaluska, North Carolina.
The SHA is open to intermediate to advanced students ages 13 and older.
Please visit the website for more information. www.summerharpacademy.org
---
Competitions & Contests
The American Harp Society Foundation 2020 Adams and Grandjany Memorial Competitions
Adams Competition: May 19th and 20th, 2020
Grandjany Competition: May 21st, 2020
The American Harp Society Foundation 2020 Adams and Grandjany Memorial Competitions will take place at Roosevelt University's Chicago College of Performing Arts May 19 through 22, 2020– This collaboration is made possible with the help from former Adams winner, Marguerite Lynn Williams, currently harp professor at the Chicago College of Performing Arts and principal harpist of the Lyric Opera of Chicago.
The Adams Competition takes place May 19 and 20, 2020, at the Chicago College of Performing Arts. Three scholarship awards of $2,000, each for full-time study of the harp, will be given, funded from the Adams, Nebergall, and Maxwell/Calkins funds. Lyon & Healy Harps, Inc., will again generously provide matched concert grand harps for the competition and enhance the awards with a $500 gift certificate for each winner. In addition, this year's winners' names will be added to the permanent plaque in the Lyon & Healy showroom engraved with all Adams winners' names.
The Grandjany Memorial Competition will take place May 21, 2020, at the Chicago College of Performing Arts, with one winner to receive a $5,000 award. This competition was established in 1979 by the American Harp Society and was funded by Bernard Grandjany in honor of his father Marcel Grandjany and was enhanced by bequests from Mary Wheeler and Hermine Herbring.
Thursday evening, May 21, 2020, Professor Marguerite Lynn Williams will be featured in recital at Ganz Hall at Roosevelt University's Chicago College of Performing Arts. All are welcome and encouraged to attend.
Finally, each of the four winners will be featured in a Winners Recital Friday morning, May 22, 2020, at Lyon & Healy Hall in Chicago. (All competitors must sign a contract committing to be present May 22 for this recital, which is generously sponsored by Lyon & Healy, Inc., followed by their additional gifts of a factory tour and lunch for competitors.)
Application Deadline: March 1, 2020– All other rules and competition details will be published on the Foundation website: www.harpfoundationahs.org/competitions-2/
---
The 5th Rencontres Internationales de la Harpe en Ile-de-France
June 2020
June 4th : Concertiste preliminary stage
June 5th : Concertiste final stage
June 7th : cycles 1, 2 et 3
The Contest is open to harpists of all nationalities with no age limit (except for the "Concertiste" level).
The jury will be composed of professionals from the music world, the majority of whom will be harpists. All stages are open to the public and admission is free.
Information and inscription: rih-idf.jimdo.com
---
---
*Returns: We want you to be completely satisfied with your instrument, no questions asked. The Harp Connection offers a 30-day return policy on lever harps and lap harps purchased from our store (except special orders). To be eligible for return, the harp must be in the same condition as when we shipped it to you and it must be returned with all accessories such as tuning keys and books. In the event of a return, you will be responsible for return freight to our Rowley, Massachusetts location. Custom-ordered harps may not be returnable, depending on the requirements of the factory; call us with specific questions about special order returns. Pedal harps can only be returned upon approval of the manufacturer and a 20% return fee will typically apply. We update our web site daily, however all harps are subject to prior sale.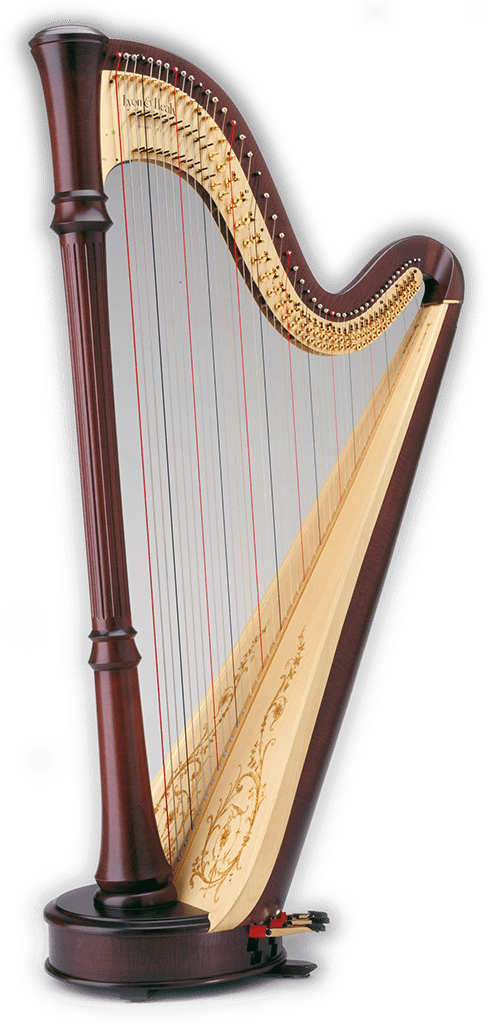 Adding To Cart...
Click or Tap to Close