Harp Event News
Here is a list of of harp events, worldwide.
E-mail your submissions to [email protected].
---
Performances, Recitals & Festivals
Christopher Newport University Harp Festival
Saturday, March 28, 2020
The Harp Festival is a fantastic opportunity for harpists of all styles and levels to learn, experience and collaborate with some of the finest harpists of our generation.
Participants will attend workshops featuring:
Canadian "harp genius" Josh Layne
Laser harp demonstration
Michelle Abbott, Vanderbilt Music
Classical radio host Kara Dahl Russell
Riverside Performing Arts Medicine Program
The participation fee of $35 ($40 at the door) includes admission to all events, a buffet lunch and exclusive vendor shopping provided by Vanderbilt Music, the Virginia Harp Center and Marini Made Harps. There is a $10 observation rate for non-harpists (does not include lunch or swag).
Check-in: 8:30 a.m., Pope Chapel
For more information: cnu.edu/academics/departments/music/festivals/harpfestival/
---
Distinguished Harpist Series: Charles Overton
Sunday, March 29, 7:30pm
18 Chase Street, Newton Center (Newton Center T stop)
Tickets: $20
To reserve seats, pay by Venmo @Distinguished-Harpist-Series or send check to:
Distinguished Harpist Series
18 Chase Street
Newton, MA 02459
For further information: 617-527-0818
Charles Overton has emerged as one of the most distinctive harpists of our time. The Boston-based harpist brings freshness to classical works, and imagination and nuance to jazz and world music. In this era of musical boundary-blurring, Charles has expanded the notion of what a harpist can be.
In 2012, Charles moved to Boston to attend the Berklee College of Music. While studying classical music under Jessica Zhou, the principal harpist of the Boston Symphony, he began to explore the world of jazz and other improvised music. In 2013, Charles was a finalist in the American Harp Society National Competition, and became the first harp student admitted to the Berklee Global Jazz Institute – a prestigious and highly specialized program in which students work intimately with master jazz artists such as Danilo Perez, John Patitucci, Joe Lovano, and Terri-Lynn Carrington.
Charles has participated in such summer festivals as the Tanglewood Music Center, Pacific Music Festival, and Castleton Festival, and performed in some of the world's great concert halls, including Tokyo's Suntory Hall, the Stern Auditorium at Carnegie Hall, the Berlin Philharmonic, Boston's Symphony Hall and the KKL Luzern Concert Hall.
Charles currently maintains an active schedule performing classical, jazz and contemporary music. He often plays with the Boston Symphony and Boston Pops, and recently performed with his eponymous ensemble, the Charles Overton Group (harp, drums, bass, tenor sax), at Scullers Jazz Club.
For further info, see charlesovertonmusic.com.
Program
Rhapsodie, Opus 10: Marcel Grandjany (1891-1975)
Sonata: Pierick Houdy (1929- )
Allegro moderato
Lento
Vivo
Variations on a theme in ancient style: Carlos Salzedo (1891-1975)
My Favorite Things: Richard Rodgers (1902-1979)
Corcovado: Antonio Carlos Jobim (1927-1994)
My One and Only Love: Guy Wood (1911-2001)
Ostinato 7: Maeve Gilchrist (1985 - )
The jazz selections, all arranged by Charles Overton, will be performed with cellist Lisa Yasui.
---
Samuel Milligan Youth Harp Festival 2020
Sunday March 29th, 2pm-5:30pm
Xaverian High School
7100 Shore Road, Brooklyn NY 11209
www.facebook.com/events/xaverian-high-school/sam-milligan-youth-harp-festival-2020/493416311303380/
Please join us for the 4th annual Sam Milligan Festival!
It is a party celebrating our young harpists with a competition with cool prizes, ensemble playing, games, harp skill building and fun! Oh-and PIZZA.
You do not need to compete to join us, play games, eat pizza and participate in the final concert.
We have added a Celtic category to encourage non-classical harpists to come and practice.
There will be two ensembles. One will have a Celtic harp piece and the other will play two of Sam Milligan's arrangement. Parts range from intermediate to easy beginner.
You do not need to compete to join us, play games, eat pizza and participate in the final concert.
Because of school security will we need to have everyone register and rsvp.
Please message Mia via the Facebook event with your email address and I will send you the form, competition pieces and other information.
Please also message to volunteer!
Event Fees
Free- student members of Metro Harp
$15-if your teacher is a member of Metro Harp
$25- if student and teacher are not members of Metro Harp
---
Workshops, Masterclasses & Harp Camps
Bardic Celtic Harp Retreat
BELLOWS FALLS, VERMONT
MAY 22 – 24, 2020
TUTORS: AINE MINOGUE and JAIMEE JOROFF

All harp events, meals and lodging under one roof. Just park your car and enter a harp world.

All Information: bardicharpretreat.com

For three days this May, in the heart of Bellows Falls, Vermont, this retreat will recreate the sounds of the old Bardic harp schools of ancient Ireland as harpers Áine Minogue and Jaimee Joroff teach you authentic Irish harp airs and music of Ireland and the Celtic Countries.
The Bardic Harp Retreat will be a celebration of Celtic music styles, techniques, and contemporary practice methods. The daily schedule will include lots of wholesome food, conversation, jam sessions, classes and performances.
Throughout the weekend, we'll learn the context of all this music and its place in the life and history of Ireland and the Celtic Countries. You will learn about authentic harp music, Irish airs, accompaniment and expression and bring new approaches and techniques and ideas to your existing repertoire.
---
American Harp Society 44th National Conference
RENAISSANCE BY MARRIOTT AT SEAWORLD
June 21-24, 2020
Orlando, Florida
Proudly presented by
the Central Florida Chapter of the American Harp Society, Inc.
This once-in-a-lifetime conference experience will surprise and delight with new perspectives on our instrument and its repertoire set against the backdrop of Central Florida's world-class entertainment industry and memorable attractions.
For more information: www.ahsconference.org/
---
Summer Harp Academy
Jul 5-12, 2020
Don't miss your opportunity to study with Elzbieta Szmyt & Jan Jennings!
The 8th annual Summer Harp Academy will take place July 5 - 12, 2020 in Lake Junaluska, North Carolina.
The SHA is open to intermediate to advanced students ages 13 and older.
Please visit the website for more information. www.summerharpacademy.org
---
Spanish Peaks Harp Retreat
Colorado's 16th Annual
SPANISH PEAKS HARP RETREAT
SEPTEMBER 23 – 27, 2020

Aine Minogue, Kelly Stewart, Jaimee Joroff, Timothy Cummings, Julie Norem-Hawley

WORKSHOPS
CLASSES
CONCERTS
HARP CIRCLE

Class size is small to provide individual attention. All information and registration is on the harp website:
www.spanishpeaksharpretreat.com

Irish Music, Scottish Music, Welsh Music, Appalachian Music, Harp with Small Pipes, Harp Circle
Explore the traditional types of Celtic tunes from Scotland, Ireland, and Wales. Then take our tunes across the ocean to Appalachia where we'll find the subtle (and not so subtle) changes of time upon the music.

NEW THIS YEAR: DULCIMER WORKSHOP with Kim McKee

Make new friends and keep the old; in the Harp world all are gold!
---
Competitions & Contests
Christopher Newport University Harp Competition
Christopher Newport University Harp Department is pleased to announce our second annual competition for high school students in grades 9-12– Winners will receive cash prizes and award certificates, as well as the opportunity to perform in the closing recital. Selections should not exceed 10 minutes and do not need to be memorized. Three professional musicians will serve as judges. The deadline to register is March 11.
Suggested repertoire:
Junior Division (grade 10 and under) - Telemann, trans. Kondonassis Fantasia No. 2 in D minor; Allegro and Adagio - Tournier Berceuse Russe
Senior Division (grade 12 and under) - Naderman Sept Sonates Progressives: Sonata 2 OR Sonata 5 Complete, Watkins Petite Suite, one movement of choice
If you wish to participate in any of the masterclasses or recitals, please email an audio or video recording showcasing your abilities to Dr. Anna Pike at [email protected]
Please send competition information and applications to Competition Chair Barbara Chapman, at [email protected] Please direct all other questions to Artistic Director Dr. Anastasia Pike, at [email protected]
For more information: cnu.edu/academics/departments/music/festivals/harpfestival/
---
The American Harp Society Foundation 2020 Adams and Grandjany Memorial Competitions
Adams Competition: May 19th and 20th, 2020
Grandjany Competition: May 21st, 2020
The American Harp Society Foundation 2020 Adams and Grandjany Memorial Competitions will take place at Roosevelt University's Chicago College of Performing Arts May 19 through 22, 2020– This collaboration is made possible with the help from former Adams winner, Marguerite Lynn Williams, currently harp professor at the Chicago College of Performing Arts and principal harpist of the Lyric Opera of Chicago.
The Adams Competition takes place May 19 and 20, 2020, at the Chicago College of Performing Arts. Three scholarship awards of $2,000, each for full-time study of the harp, will be given, funded from the Adams, Nebergall, and Maxwell/Calkins funds. Lyon & Healy Harps, Inc., will again generously provide matched concert grand harps for the competition and enhance the awards with a $500 gift certificate for each winner. In addition, this year's winners' names will be added to the permanent plaque in the Lyon & Healy showroom engraved with all Adams winners' names.
The Grandjany Memorial Competition will take place May 21, 2020, at the Chicago College of Performing Arts, with one winner to receive a $5,000 award. This competition was established in 1979 by the American Harp Society and was funded by Bernard Grandjany in honor of his father Marcel Grandjany and was enhanced by bequests from Mary Wheeler and Hermine Herbring.
Thursday evening, May 21, 2020, Professor Marguerite Lynn Williams will be featured in recital at Ganz Hall at Roosevelt University's Chicago College of Performing Arts. All are welcome and encouraged to attend.
Finally, each of the four winners will be featured in a Winners Recital Friday morning, May 22, 2020, at Lyon & Healy Hall in Chicago. (All competitors must sign a contract committing to be present May 22 for this recital, which is generously sponsored by Lyon & Healy, Inc., followed by their additional gifts of a factory tour and lunch for competitors.)
Application Deadline: March 1, 2020– All other rules and competition details will be published on the Foundation website: www.harpfoundationahs.org/competitions-2/
---
The 5th Rencontres Internationales de la Harpe en Ile-de-France
June 2020
June 4th : Concertiste preliminary stage
June 5th : Concertiste final stage
June 7th : cycles 1, 2 et 3
The Contest is open to harpists of all nationalities with no age limit (except for the "Concertiste" level).
The jury will be composed of professionals from the music world, the majority of whom will be harpists. All stages are open to the public and admission is free.
Information and inscription: rih-idf.jimdo.com
---
---
*Returns: We want you to be completely satisfied with your instrument, no questions asked. The Harp Connection offers a 30-day return policy on lever harps and lap harps purchased from our store (except special orders). To be eligible for return, the harp must be in the same condition as when we shipped it to you and it must be returned with all accessories such as tuning keys and books. In the event of a return, you will be responsible for return freight to our Rowley, Massachusetts location. Custom-ordered harps may not be returnable, depending on the requirements of the factory; call us with specific questions about special order returns. Pedal harps can only be returned upon approval of the manufacturer and a 20% return fee will typically apply. We update our web site daily, however all harps are subject to prior sale.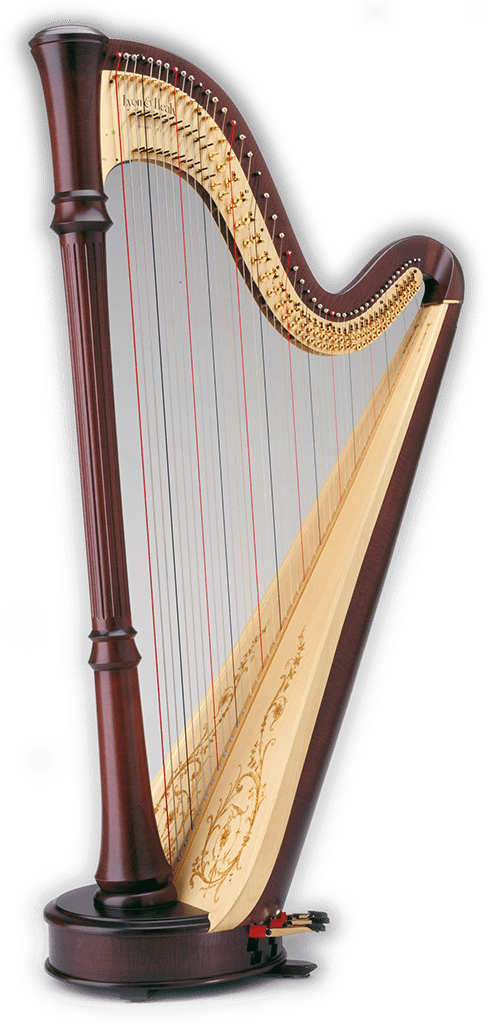 Adding To Cart...
Click or Tap to Close