Harp Event News
Here is a list of of harp events, worldwide.
E-mail your submissions to [email protected].
---
Performances, Recitals & Festivals
Bluebird Performance Venue Invitational Mic
The Bluebird Performance Venue is opening in Georgetown, MA. Alyce Underhill and I have secured the beautiful and comfortable First Congregational Church at 7 Andover St.

Our first Invitational mic is April 30th. We are attracting a variety of musicians and spoken word artists. We want to invite you to share this opportunity with your best students who are ready to spread their wings to the welcoming and artistically diverse community of The Bluebird Performance Venue.

The acoustics are amazing. We have a sound system, baby grand piano and plenty of room to seat 400, though our Invitational mic performances will be more intimate. The performances will have an array of instruments; string, percussion, brass, woodwind, vocal, keys. It's going to be a great experience.

Admission is $8 and performers are free. Cool & warm beverages and desserts are offered in the gathering room for intermission breaks and post concert meet and greets. Books/CD's and music school information tables are available for marketing.

We have scheduled our professional concert performances for the fall of 2022 and are working on our 2023 calendar if you would like to participate please reach out.

Best to you from the Bluebird Crew
Lynne Deschenes and Alyce Underhill
[email protected]
---
Woman On A Ledge: Starring Rita Costanzi
The NY City Premiere of Woman On A Ledge - a script by Hershey Felder based on the writings of Rita Costanzi will take place on March 18th - 410 West 42nd Street - Times Square, at 2:00 pm.
Internationally acclaimed harp soloist, Rita Costanzi, reveals her extraordinary life story in this One-Woman Theatrical Production – a story of love, devotion, conflict and loss, all set to some of the most beautiful music ever composed, including Liszt's Un Sospiro, Albinoni's Adagio, Puccini's Tosca and traditional Celtic Melodies. It explores what it is to be a Woman – the sacrifices and choices she makes, and the devastating outcome, years later….
"The breadth and depth of Rita Costanzi's passion, the power of her emotional presence as a musician and actor and the sound control of the musical line through the harp are all breathtaking. The sheer beauty she develops through the harp seems to exceed the instrument's normal abilities. She is a uniquely powerful performer worthy of the international stages she inhabits." Charles Stegeman, Artistic Director, Sunflower Music Festival
Tickets: unitedsolo.org/the-annual-united-solo-theatre-festival-spring-2023/woman-on-a-ledge/
---
Workshops, Masterclasses & Harp Camps
2023 MPulse Harp Institute
The MPulse Harp Institute is a one-week program focusing on individual and group instruction for high school harpists. Sessions that enhance the musical and technical skills of the dedicated harpist fill each day, with built in time for individual practice. The MPulse Harp Institute will provide 2 private lessons, daily harp ensemble, studio classes, and potential guest artists. Additional inspirational activities can include yoga class, dalcroze eurythmics and/or Alexander Technique sessions. Socially, there are gatherings for all the students attending the concurrent MPulse Institutes. It is a very enthusiastic community.
Specific topics of focus will include solo repertoire, standard harp cadenzas, performance concentration and confidence, use of the inner ear and imagination for musical delivery, playing with relaxed, organized technique and peer-to-peer observation. Studio Classes provide a productive way to explore not only harp playing, but collegial support and "real time" experience. The week finishes with a grand recital of harp solos and ensemble.
Dates: July 23 – July 29, 2023
Tuition (Including Room & Board): $1,785 (Scholarships Available)
Non-Refundable Application Fee: $75*
Priority Application Deadline: February 1, 2023
Priority Admissions Notification: March 1, 2023
*Email [email protected] if you need financial assistance with your application fee. Waivers are available.
Faculty Director: Joan Holland, Associate Professor of Harp
Learn more and apply now: smtd.umich.edu/programs-degrees/youth-adult-programs/youth-programs/mpulse/harp-institute/
---
Colorado's Spanish Peaks Harp Retreat
September 21-24, 2023
Classes workshop/ demonstration on Manx Music
concerts
harp circles
harp and pipe tunes

all under one roof with catered meals

See website www.spanishpeaksharpretreat.com for more information and registration.
Early Bird Deadline with savings up to $125 is May 1.

---
2024 45th American Harp Society, Inc. National Conference
"That's Entertainment!"
June 16-19, 2024
Renaissance Orlando at Sea World
The 2024 National Conference in Orlando Florida, hosted by the Central Florida Chapter at the spectacular Renaissance Orlando at SeaWorld, will celebrate our musical legacy with the welcoming theme of enjoyment and entertainment.
Learn more: www.harpsociety.org/national-conference
---
Competitions & Contests
2023 American Harp Society Summer Institute & National Competition
The Summer Institute, held in odd-numbered years, focuses on the student harpist with workshops, master classes, and concerts by the best performers and pedagogues in the world. The Summer Institute is held in conjunction with AHS National Competition, where dazzling young harpists compete for awards and scholarships. The 2023 Summer Institute "Creating Our Legacy" and National Competition will be held at the Colburn School, Los Angeles, June 1-4, 2023.
"Legacy" refers to what one leaves to those who follow; an inheritance for a family member or living an exemplary life, for example. "Legacy" is usually recognized as what has already been bequeathed, but we can live, teach, perform intentionally in hopes of shaping our legacy.
The American Harp Society has an evolving legacy of great teaching and performance. Using traditional methods and practice as a springboard to create new pathways in our profession, workshops will present innovative approaches to teaching, rehearsal techniques and conducting, composition and arranging, use of technology, and career possibilities for emerging artists.
Learn more here: www.harpsociety.org/summer-institute
---
---
*Returns: We want you to be completely satisfied with your instrument, no questions asked. The Harp Connection offers a 30-day return policy on lever harps and lap harps purchased from our store (except special orders). To be eligible for return, the harp must be in the same condition as when we shipped it to you and it must be returned with all accessories such as tuning keys and books. In the event of a return, you will be responsible for return freight to our Rowley, Massachusetts location. Custom-ordered harps may not be returnable, depending on the requirements of the factory; call us with specific questions about special order returns. Pedal harps can only be returned upon approval of the manufacturer and a 20% return fee will typically apply. We update our web site daily, however all harps are subject to prior sale.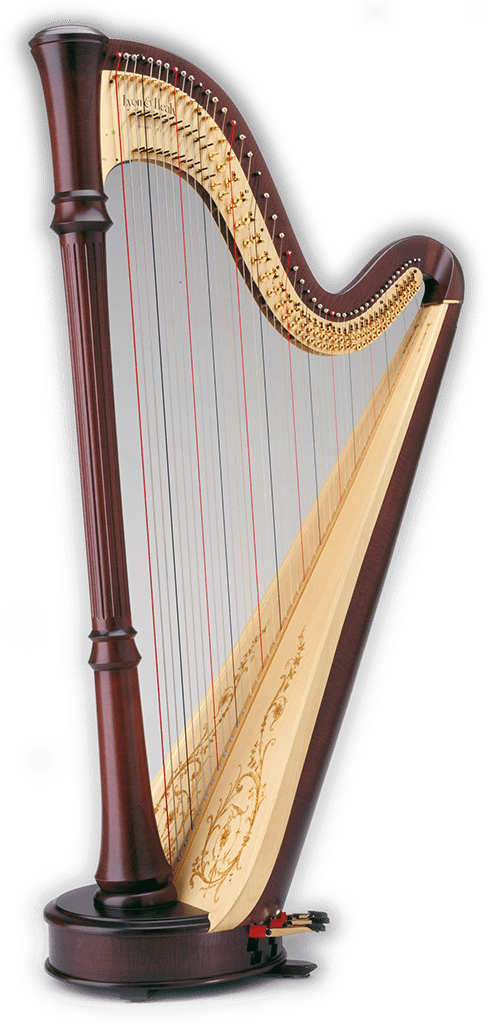 Adding To Cart...
Click or Tap to Close