THE HARP CONNECTION WELCOMES
BEGINNERS OF ALL AGES
If you are new to the harp, you couldn't have picked a better place to start than with the Harp Connection. We've made a significant investment and commitment to those just starting their journey into the world of the harp and have designed our rental and financing programs to be the best for beginners.
We talk to folks just like you every day who have basic questions about harps – there's no such thing as a "dumb question" when you talk to the staff at The Harp Connection. To help you get started, here's some basic information on harps that you may find helpful. Just click on the topic link to go to that subject.
Topics Covered:
- What is a Lever or "Celtic" Harp?
- What is a Pedal Harp?
- What are Lyon & Healy and Salvi Harps and why should I know about these harp makers?
What is a Lever or "Celtic" Harp?
A lever harp is one that has a fingertip operated lever that is used to change the pitch of a string. For instance, a "C" string will sound "C sharp" with its lever engaged. The levers make the string sound one half-tone higher, so they are also called "sharping levers."
Dusty Strings
FH34
Celtic Harp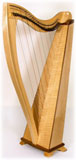 Lyon & Healy
Prelude
Lever Harp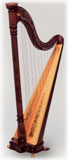 Lever harps come in two styles - "Celtic" lever harps and "Classic" lever harps. A Celtic lever harp, or simply "Celtic Harp" (shown to the left) is similar in style to the harps that originated in ancient Ireland, hence the term Celtic. Celtic harps have a lower string tension than other harps and are the easiest harp to play.
A "Classic" lever harp (shown to the right) typically has the string tension like that of a small pedal harp and is an ideal choice for a student who may go on to the larger pedal harps some day.
A lever harp may have a lever for each string ("fully levered") or levers for only some of the strings ("partially levered"). Some lever harps have no levers at all, but these are not recommended for most students. Having more levers makes it easier to set up the harp in different keys (the pattern of notes used for each piece).
Since the cost of the lever harps is much less than that of a pedal harp, most students start with a lever harp. Starting with a lever harp in no way limits what you can do on the harp later on in your development, and The Harp Connection makes moving up to a pedal harp or to a different lever harp easy with our special trade-in programs.
Lever harps typically have from 26 to 38 strings. More strings lets you play a wider variety of music.
What is a Pedal Harp?
Lyon & Healy
Style 85CG
Pedal Harp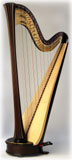 Salvi
Diana
Pedal Harp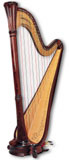 A pedal harp is the large harp you see in Symphony Orchestras. These harps have seven foot pedals that are used to change the pitch of a whole set of strings. For instance all the "D" strings can be changed to sound "D" sharp, natural or flat by moving a pedal.
Almost every string on a pedal harp is set up with two sets of discs with little pins that stop the string at two different places, giving the string three possible pitches: flat, natural and sharp.
Some pedal harps have ornately carved columns; some have Gold Leaf. Whatever your choice, the pedal harp is a large, impressive instrument to look at.
What are Lyon & Healy and Salvi Harps and why should I know about these harp makers?
Lyon & Healy is by far the oldest and most respected harp maker in the world today. They have been making harps since 1885, and the second harp they sold – now over 100 years old – is still in daily use today (the first is on display at their Chicago headquarters). No other maker even comes close to this achievement.
Lyon & Healy has made a century-long commitment to steadily improving the harps they make as new production techniques become available. Most telling of all is that the majority of pedal harps played in the top 10 orchestras of Europe, Canada and the United States are that of Lyon & Healy, or its sister company, Salvi of Piasco, Italy.
Nestled in the verdant rolling countryside near Turin, Italy there sits the unexpected – a harp factory where fine, old-world traditional craftsmanship flourishes in the company of modern, high-tech computer-aided design. Salvi harps has been in the business of making what many say is the most reliable harp on the market today for over 50 years.
Salvi's Engleman spruce soundboards are famous for their warm sound. Many years of research in sound production (which continues today) has produced harps of unmatched evenness of tone quality from one register to another. The design and construction of the neck of the Salvi harp helps it stay in tune, reducing the amount of time needed for tuning.
Click here to learn more about the history and craftsmanship of Salvi Harps.
Because your long-term satisfaction with your new harp is so important to us, The Harp Connection has set high standards for quality of construction and finish, warranty service and product improvement for all the lines of harps we choose to offer in our store.
Simply put, the Lyon & Healy and Salvi harps represent a superb combination of quality, reliability and value. That's why it's Lyon & Healy and Salvi pedal harps at The Harp Connection. For you, only the best!
---
*We work really hard to keep the prices on our web site as up-to-date as possible. Some of our harps come with special finishes, decorations or additional levers and are priced accordingly. We occasionally have "slightly used" harps for somewhat less. All prices are subject to change without notice; call us and we'll be happy to quote you current prices and finish availability on all our harps.