New from $5,795*
"Slightly Used" from $6,720*
FH34S

FH34

New from $5,795*
"Slightly Used" from $6,720*
FH34S

FH34

The FH34, Dusty String's compact, 4-3/4 octave, all-solid-wood model, delivers brightness, depth, and clarity along with both portability and range. A little smaller than their 36-string harp, the FH34 has enough resonance and beauty to delight both the professional harp player and the person new to harping.
To keep the carrying size down, the FH34 includes an innovative stand that has removable feet and nestles into the base of the harp, attaching in seconds with the twist of a knob and without needing to turn the harp upside down. The harp can also sit on the ground without the stand for those who like a lower height.

The staveback FH34S is Dusty's lightest-weight 34-string harp. Its sleek, petite shape, weight-saving details, and removable stand make it easy to transport. The 34 strings give it a satisfying playing range, and the solid wood construction produces the sophisticated sparkle that is characteristic of the Dusty FH line.
The sound is sweet, warm, and beautifully balanced, with a full bass and clear, singing treble. It has the classic Dusty resonance and brightness with some more distinction between the notes and a slightly more focused sound than its larger siblings. The mid and treble strings are one gauge lighter than the other FH harps - just enough that your fingers will dance over them with ease, but you can still dig in without distortion.
The soundbox is a full, faceted, arched staveback shape, and the top of the soundboard is a comfortably narrow 4 inches.

These harps are constructed from an amazing collection of hardwoods. The soundboard is solid Honduras mahogany in the mid and upper ranges and spruce in the bass, overlaid with book-matched figured hardwood veneer and bordered with purfling and edge binding. Sapele, American Black Walnut, Eastern Maple and Bubinga are available for the neck, pillar, sides and back.

The FH34 and FH34S come with a deluxe, thickly padded, form-fitting case made with 1/2-inch thick foam sandwiched between a soft inner lining and a tough outer covering of waterproofed cordura. Case includes zipper access, large accessory pocket, long-lasting leather trim and handles, extra grips for easy handling, and detachable shoulder strap. Backpack straps are available for the case.

The FH34 at a glance:

Max height w/o legs: 48 inches
Max soundboard width: 13.5 inches
Weight FH34 (approx): sapele - 20 lbs.; walnut - 19 lbs.; maple - 22 lbs.; bubinga - 25 lbs.; cherry - 20lbs
Weight FH34S (approx): sapele - 19 lbs.; walnut - 17.5 lbs.; maple - 22 lbs.; bubinga - 24 lbs.; cherry - 19lbs
Number of Strings: 34 (4-3/4 Octaves)
Low: C2 (2 octaves below Middle C)
High: A6 (2-3/4 octaves above Middle C)
Levers: Fully levered
Sapele harp -- Neck, pillar, sides & back: sapele
Walnut harp -- Neck, pillar, sides & back: American black walnut
Maple harp -- Neck, pillar & sides & back: eastern maple
Bubinga harp -- Neck, pillar, sides, & back: bubinga

Return to Used Harps
---
See the FH34 up close in our on-line videos
Dusty Strings has provided some nice videos of the different FH34 wood types. Thanks to Harper Tasche and Laurie Riley for playing these soundtracks.
---
Current Inventory
Some of our instruments are available in our Rowley, Massachusetts Harp Showroom and other instruments are stored in our Chicago Transit Terminal for immediate shipment.
Additional harps may also be available at the Factory; please inquire.
Our harps generally can only be shipped to United States and Canadian destinations; international shoppers please inquire for more details.
---

FH34S Package Cherry (Used S/N 23201)

---
---
Upcoming Arrivals
---

FH34S Package Cherry (New)

---

FH34S Package Bubinga (New)

---
*Price depends upon finish and options. Returns: We want you to be completely satisfied with your instrument, no questions asked. The Harp Connection offers a 30-day return policy on lever harps and lap harps purchased from our store (except special orders). To be eligible for return, the harp must be in the same condition as when we shipped it to you and it must be returned with all accessories such as tuning keys and books. In the event of a return, you will be responsible for return freight to our Rowley, Massachusetts location. Custom-ordered harps may not be returnable, depending on the requirements of the factory; call us with specific questions about special order returns. Pedal harps can only be returned upon approval of the manufacturer and a 20% return fee will typically apply. We update our web site daily, however all harps are subject to prior sale.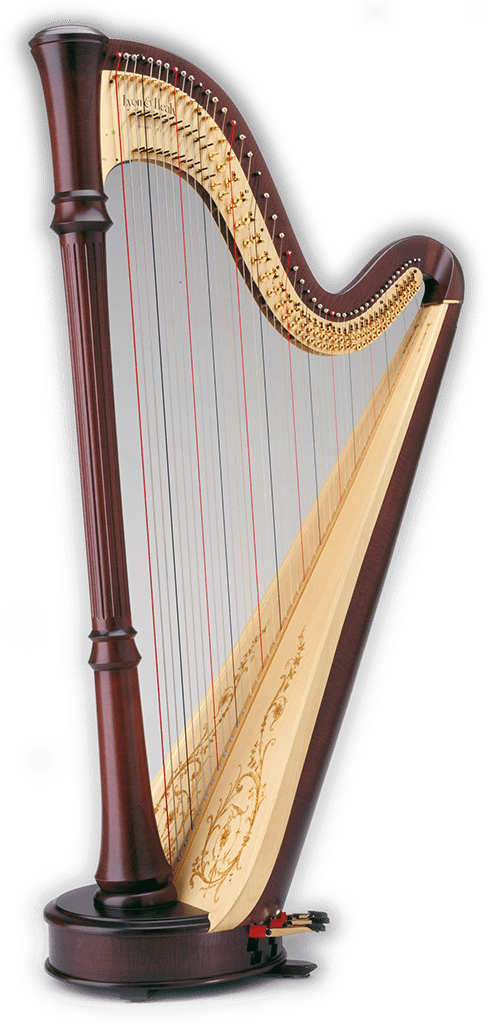 Adding To Cart...
Click or Tap to Close