Visiting Our Store
Please call ahead if you are thinking of visiting our store!
Our showroom can only accommodate one harpist at a time.
We really like to prepare and tune all the desired harps before you arrive
to fully accommodate you while you are at our store!!
The Harp Connection is located in Shetland Park (Building 2) at 35 Congress Street, Suite 218 on the 2nd floor, in historic Salem, Massachusetts, just one block away from Pickering Wharf. We are 15 miles North of downtown Boston and 14 miles from Boston's Logan International Airport.
Our full physical address (for those who need additional Google Maps directions and GPS users):
The Harp Connection
35 Congress Street
Suite 218, 2nd Floor
Salem, MA 01970

Please do not use MapQuest - There are incorrect turns in their directions that will cause much confusion!!

From the North using I-95 South:

Take I-95 South to exit 50 (Route 1). Follow Route 1 South and watch for the signs for Route 114 EAST (Peabody). Follow Route 114 EAST for about 3 miles; you will then cross a bridge that spans Route 128. Follow the directions from Route 114 given below.

From the North using I-93 South:

Take I-93 South to Route 128 North. Follow ALL the directions given below from this point.

From Boston and all other Points South:

Make your way to Route 128 North. Once North of Boston, Route 128 and I-95 split. Stay LEFT at the split on Route 128N (toward Salem, Peabody and Gloucester – NOT I-95 toward New Hampshire and Maine) and take the third exit after this split, Exit 25A Salem/Marblehead. At the end of the ramp, turn RIGHT onto Andover Street (This is Route 114). Follow the directions given below from this point.

General Directions from Route 114:

Follow 114 EAST into downtown Salem. Specifically: 114 East is called Andover Street when you first get on it. Take a LEFT at the second set of lights onto Pulaski Street. Go one block and take a RIGHT at the next light onto Gardner Street (follow 114 East through these turns).

Follow Gardner Street until it ends and turn RIGHT onto Margin Street. Continue for 1.5 miles. Margin Street turns into North Street. This road will take you over a bridge that crosses a canal. When the lanes split, get in the right lane to go STRAIGHT. Go through 2 sets of lights. (A landmark at the 2nd light is the "Witch House" museum on your right.) Go STRAIGHT through the traffic light. Turn LEFT onto Norman Street. You are still on 114 East and you will see the Salem post office on your right.

STRAIGHT through the next two major intersections. Stay in middle lane at the first intersection that crosses Washington Street (Norman Street turns into New Derby Street here, although Google erroneously calls it 'Derbey' street). Get into the left lane at the second intersection that crosses Lafeyette Street (New Derby Street turns into Derby Street here). You will then come to a traffic light with a parking garage on your right. Get into the right lane at this intersection turn RIGHT onto Congress Street. Continue over the little bridge. You will see a sign for Shetland Park on your left.

Check out the Google Map of Congress Street!

Shetland Office Park
Salem, Massachusetts

Enter the Shetland Park parking lot through the main entrance and ask the security guard for the visitor parking for The Harp Connection. (Do not park in a numbered space! These are reserved.) The Harp Connection is in Building 2 (35 Congress Street) on the second floor. Come into the front entrance of the building. When you get to the second floor, walk straight down the hallway and turn right where the hallway ends. Turn left immediately and we will be the second door on your right. Welcome!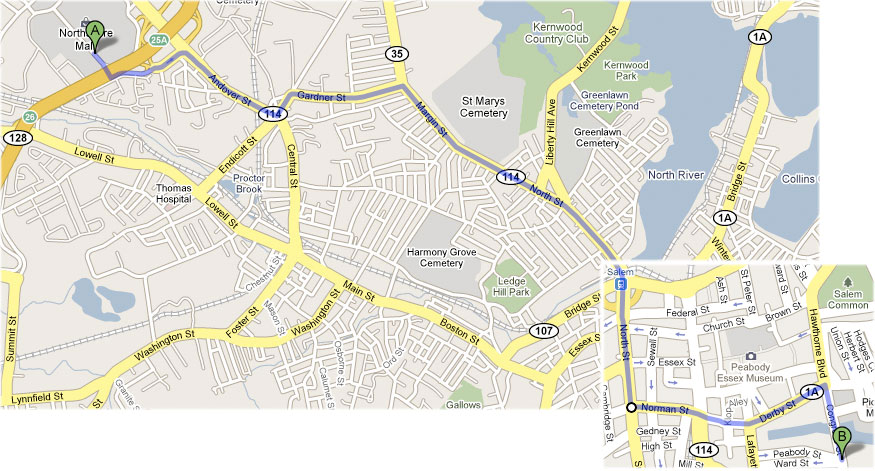 This Google Map shows the route from the North Shore Mall (near Route 128) to our store at 35 Congress Street in Salem.
By Air
From Boston's Logan International Airport, you can get to Salem via taxi (about $60.00), via the Peabody Logan Express shuttle bus service and a short taxi ride, or via commuter rail from Boston's North Station. Visit the Logan Airport Ground Transportation page for complete information.
Staying in Salem
Salem's newest hotel, the Salem Waterfront Hotel & Suites, is immediately adjacent to Shetland Park. They are at 225 Derby Street and can be reached at (888) 337-2536 or (978) 740-8788. The Hawthorne Hotel, affiliated with Historic Hotels of America, is nearby at 18 Washington Square West and can be reached at (888) 729-7829 or (978) 745-4080.
Numerous other lodging options (including Salem's many fine Bed & Breakfast accommodations) can be found at the Salem City Guide or Destination Salem lodging pages. Commercial hotels are located nearby in Peabody, Massachusetts on Route 1. The Holiday Inn there ((978) 535-4600 ) was recently renovated and offers good rates.
Attractions: Nearby Pickering Wharf has a good web site describing downtown Salem and visitor services. The world class Peabody Essex Museum (3 blocks away) is billed as one of the largest museums on the East Coast, in part because its collection includes half a dozen entire houses! The Salem Maritime National Historic Site (2 blocks away) is also noteworthy.